The Social Innovation Community (SIC) was a project to connect social innovators across Europe. After three years of research, experimentation, learning, policy and connecting networks across Europe, the Social Innovation Community (SIC) project comes to an end. Therefore, the Social Innovation Community (SIC) presents the "Yearbook" written by the SIC project consortium.
This Yearbook highlights those actions performed in the framework of the Social Innovation Community project. Although the project officially ended in January 2019, the social innovation community in Europe is still thriving, and many of the activities that were created under the SIC brand still continue today. In this Yearbook, you will find ways to continue to work with the SIC consortium partners, to continue to nurture and grow social innovation in Europe.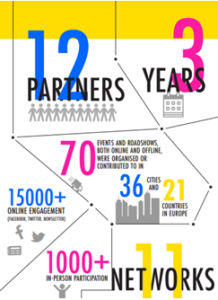 SIC IN EUROPE 2016 – 2019
Four activities – networks in practice:
Research in Action
Participatory Learning
Experimentation
Influencing Policy
Access SIC tools and case studies via the learning repository
On the SIC Learning Repository, you can continue to find blogs and resources related to the public sector and the use of social innovation to improve the welfare system. You can find lots of the content that was on the main SIC website that supports the public sector to take advantage of social innovation in the everyday practices of service delivery. You can also access all of the tools produced and collected during the SIC project that support the design and experimentation of social innovations by innovators, intermediaries and the public and private sectors. The website can be found here: www.silearning.eu
If you are developing your own social innovation strategy in your city or country, get in touch to see how you can use the #SIDeclaration to shape your social innovation policy.
Social Innovation Community official website www.siceurope.eu
PARTNERS