Read the global review on how governments and their partners are innovating.
Source: OECD
The OECD Observatory for Public Sector Innovation (OPSI) serves as a global forum for public sector innovation, helping governments to understand, test and embed new ways of doing things through the application of fresh insights, knowledge, tools and connections. The Observatory and the United Arab Emirates (UAE) Mohammed Bin Rashid Centre for Government Innovation (MBRCGI) partnered to conduct a global review that explores how governments are innovating and taking steps to make innovation a routine and integrated practice across the globe.
The review included extensive research and a global Call for Innovations crowdsourcing effort, which collectively identified 542 innovations from 84 countries for analysis.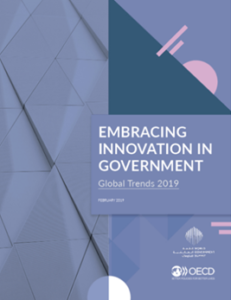 The report contains different types of case studies focused on three key trends in government innovation:
Trend 1: Invisible to Visible
Trend 2: Opening Doors
Trend 3: Machine-readable World
These trends in government innovation highlight novel opportunities and forecast new possible futures.
Trend 1: Invisible to Visible
Leveraging new methods, tools and technologies to transform the invisible to visible, allowing governments to see and understand insights, perspectives, opinions and possibilities that have previously remained hidden, allowing them to become more effective and make better decisions.
Case studies:
Carrot Rewards – Canada
Finding Places – Germany
Zika Mozzie Seeker – Australia
Trend 2: Opening Doors
Governments are increasingly looking for ways to improve citizen participation in democracy, government benefits and the economy. Rethinking the traditional role of government and opening doors to new economic services and opportunities, as well as providing access to justice and society for marginalised populations.
Case studies:
Sharing economy for government spaces – Netherlands
Recyclables as transportation fare – Indonesia
Transportation as a Benefit – United States
Clear My Record – United States
Trend 3: Machine-readable World
Building a machine-readable world comprised of bits and bytes that mirror the physical world in digital form, thereby unlocking public information for mass electronic consumption, reimaging foundational government practices and fuelling the next generation of innovation through emerging technology
Case studies:
Better Rules – New Zealand
Machine Learning for Land-mapping – Australia
Counterfeit medicine detection using blockchain and AI – Mongolia

Download the full report (PDF)
OPSI case study platform
OPSI has developed a new Case Study Platform where innovations can be collected and shared to help disseminate good ideas. Any public sector innovator may submit innovations to the platform.