Play a leadership role in social innovation education
Social Innovation Academy is a project co-financed by the European Commission's Erasmus+ programme aiming to become the go-to online platform for anyone willing to learn more about social innovation. We attract thousands of visitors globally each month.
Are you a social innovation academic, researcher, a successful social entrepreneur, impact investor, social innovation consultant, or an experienced practitioner from a social innovation-oriented governmental or non-governmental organisation? Or maybe you are a journalist or blogger experienced in the topic of social impact and social innovation?
Would you like to share your expertise with our global audience?
If so, keep on reading.
Social Innovation Academy is already proud to have a network of experts worldwide who help social innovators and social entrepreneurs start and grow their projects. We are now seeking new experts to share their knowledge and experience in social innovation through our platform and to help raise the visibility of social innovation worldwide.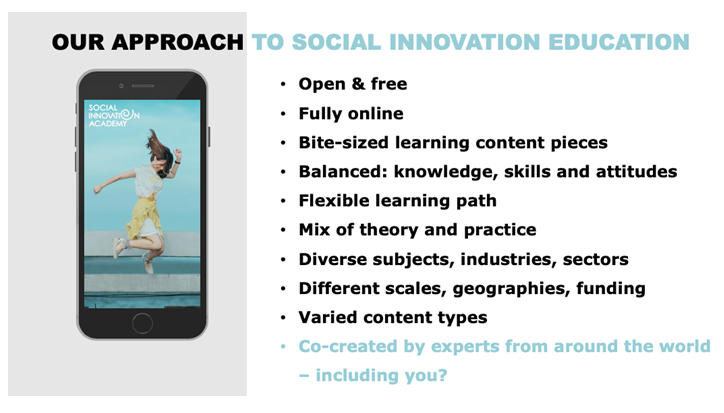 How can I contribute?
You can choose from three types of content:
A subject-matter article: a 1,000-1600 words post based on either a specific social innovation topic analysed by you in-depth (a great choice for true subject-matter experts, see an example here), or a collection of 8 social innovation good practices, arguments or sub-topics curated by you (perfect for social innovation journalists or bloggers, see an example here).
A practitioner interview: an interview with a change maker who shares their experience of going through the social innovation process. You can choose between a written (see example here) or a video (check here) interview format.
Real-life case study: if you think your social innovation could benefit from some visibility, and at the same time serve as an insightful example for those willing to learn more, then this is the right format for you. Each example is exactly 1-page long (see our previous examples here), and the template, instructions and guidance are provided. We are always on the lookout for inspirations from all over the world, be it from the private, public or civic domains.
Interested in this opportunity? Consult all the information in the following link.