Call for applicants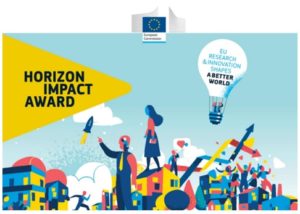 Deadline for submissions is 28 May 2019 at 17:00:00 CET
The European Commission recently launched the Horizon Impact Award, focused on uptake and exploitation of EU funded project results. The award aims to show the wider socio-economic benefits of EU investment in research and innovation.
With this award, the Commission aims to champion the uptake and use of EU funded project results, thus boosting their potential to achieve economic, societal, and/or policy impacts. It is expected that the award, through showcasing best practices, will create role models and inspire R&I beneficiaries to use their research results to create value for the society at large.
Who can apply for the Horizon Impact Award?
The contest is open to all legal entities or groups of legal entities from FP7 (7th Framework Programme, 2007-2013) or Horizon 2020 finished projects. The applicants must be able to show proof of effective exploitation and uptake of their research results.
Award value
In particular, five winners will be selected by the evaluation jury for their achievements. The prizes are monetary and each of the five winners will receive EUR 10.000. The prizes will be awarded during the Award Ceremony with a selected audience of high-level representatives and promoters of innovation in industry and public sector. The Commission will further promote the winners by inviting them to provide testimony in other major events.
The five winners will be announced and awarded at the R&I Days in Brussels in September, with more than 4,000 high-level participants.
How to apply
Participants can apply for the contest online. The full details are explained in the following documents:
Applications must be submitted by the (lead) participant via the Funding and Tender Opportunities website.
For more information, please see the prize website