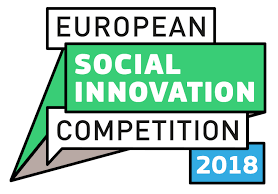 Source: European Commission, European Social Innovation Competition, 2018.
Social innovation is not a new phenomenon, but it has grown in prominence over the last decade both as a term and as an important driver of social change. There is no universal definition of "social innovation", but one that is both elegantly simple and widely-used is "ideas that are social in their ends and in their means" (Nesta, 2010).
In this context, The European Social Innovation Competition seeks social innovation ideas that are social in both their ends and their means. Each year, the European Social Innovation Competition raises awareness of a different challenge facing European society and aims to unearth potentially game-changing ideas from all corners of Europe.
In 2018, the competition focuses on the theme RE: THINK LOCAL. Innovations that take place in a certain location and respond to specific local conditions, challenges and opportunities are often called "place-based".
This month, The European Commission announced the finalists of the 2018 European Social Innovation Competition. The finalists come from 10 different countries – Austria, Germany, Greece, Hungary, Italy, Romania, Slovenia, Spain, Sweden and Ukraine – and work in diverse fields.
The finalists were selected by a jury of international experts from among 30 semi-finalists covering a wide range of sectors and activities. These, in turn, were selected from a pool of 729 eligible entries from 39 countries. All semi-finalists participated in an intensive training and coaching program including the Academy in Cluj-Napoca to develop their initiatives.
The three winners will be announced at the Awards Ceremony on 8 November 2018 in Brussels and will each receive a €50.000 prize to further develop their projects.

In addition, this year, the competition has created the first European Social Innovation Toolkit with the aim to support social innovators across Europe to bring their ideas into reality by using the phases of the innovation spiral.
The toolkit covers the essential building blocks of building a social venture, structured according to the spiral, covering issues such as framing a problem, prototyping, revenue generation, stakeholder engagement and communications, sustainability and impact measurement. The toolkit will be updated regularly to respond to the needs and feedback of innovators using it as a guide.  The full document is available, view the toolkit here. 
Moreover you will find more information about the 10 projects finalists of the 2018 European Social Innovation Competition.