Prozorro is an open-source software system for electronic public procurement. Prozorro provides a platform for the transparent and efficient spending of public funds and aims preventing corruption through public oversight and enhanced competition. It is a robust collaboration system for business, government and civil society that has the potential to be adapted to any country.
About Prozorro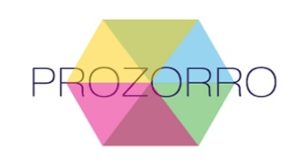 ProZorro project was initiated in Kiev in May 2014 as a Public Private Partnership consisting of representatives from numerous non-governmental organizations, also private businesses and governmental institutions, united around the shared principles and aims, such as to overhaul one of the most corrupt areas of Ukrainiae Government: public procurement.
Ukraine's public procurement sector was long associated with corruption, with an estimated UAH 50 billion (US$2 billion) lost annually through shady deals and limited competition. But today, the country is considered a recommended model for e-procurement reform by the European Bank for Reconstruction and Development, and won a prestigious World Procurement Award in May 2016.
The success of ProZorro is a remarkable example of how a small group of individuals from different parts of society have been able to work together to repair a broken system, despite operating in a politically and economically uncertain environment.
 A model like ProZorro has the potential to be adopted by any country struggling with a lack of openness in its public spending.
What made possible this shift? A quick glance at the history of Prozorro
ProZorro began with the idea of several civil activists and procurement experts, who were inspired by the spirit of Maidan, believing that reform could be achieved from the bottom-up. These ideas transformed into the Concept of development and implementation of e-procurement system in Ukraine 2014-2015, which later got support of the vast majority of Ukrainian stakeholders, expressed in several MoUs in support of ProZorro. The next steps were the elaboration of the ToR through crowdsourcing, the development of the Open Procurement open source software using crowdfunding and the launch of the pilot of the new procurement system in February 2015, which has used the Open Contracting Data Standard (OCDS) as a key tool for data modeling.
By March 2016, more than 3,900 governmental organizations from all over Ukraine had joined the pilot project, and saved more than UAH 1.5 billion (around US$55 million). The purchases were "below-threshold" contracts worth less than UAH 100,000 (UAH 1 million for state-owned enterprises), which means they were not regulated by Ukrainian procurement laws and the volunteers didn't have to obtain a government licence to carry out the pilot project. Below-threshold tenders account for around half of Ukraine's entire procurement budget.
Public agencies including defence, police, customs, health, infrastructure and energy, have awarded more than 85,000 tenders through the ProZorro system, as of July 2016.
With the new law into effect in April 2016, the project has been expanding step by step to cover all the country's procurement. Meanwhile, the central platform, which was hosted by Transparency International Ukraine throughout the development and pilot phase to avoid bureaucratic processes and cut costs, was transferred to the state and is now available at www.prozorro.gov.ua.
On 1 August 2016, it became mandatory for all contracting entities to use e-procurement for all purchases, above- and below-threshold.
Since then, other complementary initiatives have also been successfully implemented or tested. A professional risk-management system with "red flag indicators", a new official web portal, an online course for contracting authorities, and an e-library of typical specifications are innovations that were made possible through open contracting.
In May 2016, Ukraine officially joined the WTO Government Procurement Agreement, which not only opens up the markets of its members – including 28 European nations, the US, Canada, and Japan – to Ukrainian suppliers, but also demonstrates the Ukrainian system's compliance with international standards.
What makes Prozorro Special?
ProZorro, which means "transparently" in Ukrainian, has some specific attributes that make it a novelty in the procurement world.
Firstly, everything is open. All information related to the tender process, including suppliers' offers, can be accessed and monitored by anyone. The system is open source, and all data is structured in line with the Open Contracting Data Standard, making cross-country data comparison and analysis possible.
Secondly, ProZorro is a "hybrid model" e-procurement system, which means the information is stored in one central database, but suppliers and contracting authorities can access the data from a number of different platforms, choosing the one that best serves their needs. Using an API, these interfaces are connected to the central database so that all the information is synchronized across all platforms.
Finally, the key actors in the project play their own, unique role in what we call the "golden triangle of partnership". Government actors are responsible for setting general rules and protecting information; businesses are responsible for providing services to contracting authorities and suppliers; and civil society is responsible for managing business intelligence modules and developing risk-management methodologies.       This style of cooperation has significantly improved trust among all key stakeholders.
Prozorro will be presenting its experience in the 3rd Edition of the Summer School of the Social Innovation Community project (SUMSIC 2018) that will be held in San Sebastian from June 27th to June 29th.