March 15th – April 29th 2018
Join us this March in Zagreb for our second Social Learning Relay, designed to boost the collaborative efforts of your team and strengthen social impact initiatives!
No matter how good your ideas for social change are on paper, putting them into practice requires another set skills and competencies. Direct experimentation helps further shape your ideas for change, but questions remain such as how do you keep your team empowered to pursue their creative efforts? How do you maintain motivation and enthusiasm along the way? How do you learn and adapt along the way, without loosing sight of the initial appeal and drive? And how do you resolve tensions in relations when working with diverse personalities, skills and expectations?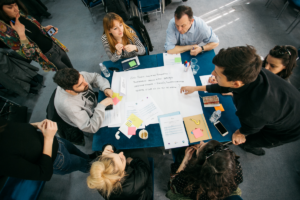 Being able to deal with the challenges that arise during experimentation processes, turns out to be crucial for the development and sustainability of the innovation you wish to achieve.
On the 15th of March our second Relay kicks-off with a full day workshop in the city of Zagreb, Croatia focusing on the topic of Experimentation and precisely some of the challenges mentioned above.
Format & Programme
The relay will start with a kick-off workshop on the 15th of March. The workshop will combine informative & inspiring lectures, with worksessions in which you will practice with a number of tools. During the workshop, you will get to know the other participants, deepen your learning question and form smaller groups before embarking on the online learning relay.
The relay period consists of 4-5 rounds of one week, in which each group provides input to the learning question of one of the participants in their group. At the end of the relay period each person has given help to all her/ his group mates.
Online intro & welcome:   March 7th 2018
Kick-off workshop:             March 15th 2018
Online Relay rounds:         March 15th – April 15th  2018
Online closure event:         End of April 2018
Do you want to connect with other motivated change agents and build on each-others experiences and practical insights? Apply now! If you would like to take part in the relay, we kindly request you to apply via the online application form.  The deadline for application is March 1st 2018