Every year, the European Commission conducts a study to analyze key employment and social issues for the European Union and its Member States.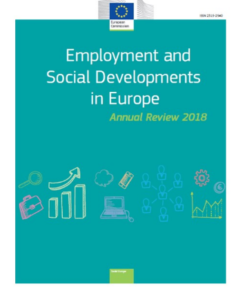 This year, the DG Employment, Social Affairs and Inclusion of the European Commission has released the Employment and Social Development in Europe (ESDE) 2018 report on 12th July 2018.
In this edition, the ESDE report reveals ongoing positive labour market trends, as well as an improvement over the social element.
The report shows that the number of employed reached 236.3 million in the EU. Permanent jobs and full-time employment were the main contributors to growth in employment.
Aim of the report
The aim of this year's edition of the report is to analyse opportunities and risks linked to:
Technological innovation,
Demographic change and,
Globalisation.
It is shown a global picture of the labour market and the social challenges the European Union tackled with in the past and is facing now.
The report focuses on how the EU can tackle with challenges linked to the increasing presence of robot in the production process, the demographic impact on labour forces and the question of the new skills the market demands and the training we can offer to the European citizens.
The review shows what needs to happen so that everybody can benefit from these developments. Technological progress is key to increasing overall productivity.
For more information about the report, click here