Apr
8
Mon
Curso: Tecnologías, Redes sociales, Gobierno Abierto y Democracia.
Apr 8 @ 9:00 am – Jul 26 @ 11:45 pm

Dirección: M.A. Ester Kaufman  (CIS-CONICET/IDES)
Este curso analiza el desarrollo de la "Sociedad de la Información y el Conocimiento", el impacto y la naturalización del uso de las TIC, y algunas tecnologías emergentes tales como  Inteligencia Artificial, Big Data, Open Data y Blockchain, desde sus ventajas y sus desafíos.
Desde la óptica de lo conceptual y de la gestión, profundiza sobre el paradigma de "Gobierno Abierto" o "Estado Abierto" (G/EA), que pretende dar respuesta a la desconfianza ciudadana. Con base en las exigencias de transparencia, participación, colaboración y rendición de cuentas, el G/EA propone discursivamente la co-creación de las políticas públicas, incorporando las perspectivas de los destinatarios. En ellas, las herramientas TIC están muy presentes. En la práctica no sabemos aún cómo influye este enfoque en la calidad de la democracia y en los nuevos modos de hacer política.
Destinatarios:
El curso está dirigido, preferentemente, a egresados de ciencias sociales y políticas, comunicación y redes sociales, periodismo, carreras tecnológicas, archivistas, bibliotecarios, documentalistas y expertos en administración pública. También apunta a funcionarios que cumplan algunos de esos perfiles.
Organización y cursada.
Fecha de Inicio: 08 de abril
Fecha de Finalización: 26 de julio
Duración: 4 meses (16  semanas) – 192 horas
Cantidad de alumnos (cupo): 10-40 cursantes
Fecha límite de inscripción: 01 de abril
Más información aquí 
Jun
25
Tue
New urban visions: Bringing digital social innovation into City Hall

@ Marzyciele i Rzemieślnicy
Jun 25 @ 9:00 am – 5:00 pm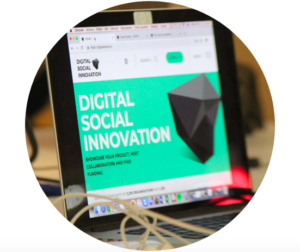 The event will focus on the key role city governments can play both in supporting DSI and benefiting from DSI, through talks, discussions, workshops and networking.
Confirmed speakers include Catherine Stihler, Chief Executive, Open Knowledge Foundation, Eddie Copeland, Director of Government Innovation, Nesta, and Mara Balestrini, Chief Executive, Ideas for Change.
The event is open to everyone across Europe, and particularly aimed at: representatives of city governments, local government associations, city networks, umbrella bodies; representatives of central government; DSI practitioners; and funders of DSI, tech for good, civic tech and public sector innovation.
Oct
24
Thu
19th European Conference on Digital Government

@ Cyprus International University
Oct 24 @ 9:00 am – Oct 25 @ 5:00 pm
The European Conference on e-Government has been running now for 19 years. This year the conference to look more broadly at the area of Digital Government. The conference is generally attended by participants from more than 40 countries and attracts an interesting combination of academic scholars, public sector workers and individuals who are engaged in various aspects of Digital Government research and application.
Cyprus will be the venue, on the 24 – 25 October 2019.
ECDG Call for Papers
As governments seek to remodel and restyle their services, Digital Government is playing an increasingly central role. Issues such as Digital Democracy, the Digital Citizen, interoperability, e-identity and e-voting have become core elements in the development of public sector delivery. These issues together with the importance placed on Joined-up Government and Open Government are relevant at local, regional and central government, as well as at the supranational level such as the European Union. Digital Government encompasses more than just technology – it challenges the way in which public sector service providers and citizens interact. Democratic renewal, the transformation of service delivery, community leadership and citizenship integration are all key elements and Digital Government is also tightly related to legal, economical and organisational fields and as such holds a strong interdisciplinary status. We welcome contributions on any aspect of digital government research – both empirical and practical.
Submission Guidelines and more information