#SIDeclaration  
The Call for Participation closes March 25, 2018
Social Innovation Community is running a public consultation to identify the key policy challenges that are preventing Europe's diverse social innovation community from achieving its potential for social impact – and we want to hear from you!
Our aim is to use this independent consultation to help (co)produce a European Declaration for Social Innovation that represents the policy needs and interests of the social innovators, social entrepreneurs, activists, civil society actors, cooperatives, researchers and others who make up this diverse community.
The final Declaration will be presented to the European Commission for consideration later this Spring.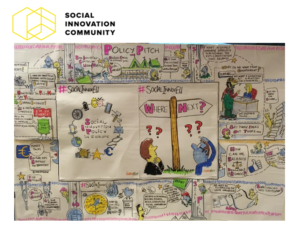 How and why should you contribute?
Over the coming weeks, the Social Innovation Community project will be running a series of online activities and discussions to capture the rich diversity of perspectives and policy needs across Europe's SI community, and to work with the community to shape a new Declaration that sets out a clear policy agenda for supporting social innovation. But first we want to hear from you!
Our short survey takes no more than 5 minutes to fill out. Click for Spanish, German, and French. Complete it before March 25th to let us know what barriers are holding you, your organisation and/or your community back from achieving your fullest potential for social impact!
Stay up to date and involved in the key #SIDeclaration and SIC project developments by signing up to SIC's newsletter here and by following us on Twitter / Facebook.